The Scottish National Dictionary was published in ten volumes between 1931 and 1976. The compilers sought out many individuals from all over Scotland who were experts in their local dialect and had a profound knowledge of local history, and could explain Scots words as they appeared in print from 1700 until 1976. The mission of this elite group of individuals was to record, share and promote these words within the context that they were originally written.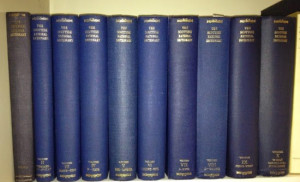 My great-aunt, Jeanie Craik Rodger, a primary school teacher in Forfar, was one of the first expert compilers recruited. She was born in 1905 in Forfar and had a very strong Angus accent. Her family had lived there from time immemorial. She collected the vocabulary, accents and stories of her charges, and stories from local folklore.
Jeanie is shown on the right with her younger sister, Agnes Mary Rodger, who died in 1937 of pulmonary tuberculosis, just 23 years old.
One of her most memorable works was Lang Strang­ – a book of rhymes and children's games published in 1948 based on local tales from Forfar – one of the greatest hits was 'a bedtime story' where trousers are 'stuntifiers' and the cat is 'Old Killiecraffus'. Jeanie then went on to write a regular column in Forfar vernacular for the national Scots Magazine under the pen-name of 'Mary-Ann'.
When compiling her entries for the Dictionary she came across a number of words with a specific medical terminology, such as 'bairn-bed' for a womb.  Some were local to Forfar, but others came from many other parts of Scotland.
As a medical historian I have always had an interest in these ancient terms – some are quite amusing in their frank descriptions. Males had cods, courage-bags, culls, bollocks or knackers, pintles, whangs and wallies! And females had bairn-beds, fud, crappins, craig of the creel, egg-bags, wheeries and problems with their breists or briskets.
Other worrying names are 'by anesel' meaning completely mad, and 'curly wingles' when apparently you think your guts are doing somersaults. At least you would know your 'hurdies' meant your bum.
I am proposing to develop an inventory of Scottish medical terms as part of a Pinpoint Ancestry development to appear on our website soon. All out-kneed people with reeking oxters, peerie-winkled, hertie, driddly and kittle or lap-biggit people are apologised to.
After several years' research and countless hours of scribbling I've just taken delivery of an advance copy of a book I've been writing with friend and colleague John Burt.  Coincidentally, the book arrived on Epilepsy Awareness Day.
Lunatics, Imbeciles and Idiots began following our M.Sc. dissertations in Genealogy at the University of Strathclyde and snowballed as a result of the rich sources and fascinating social history that emerged as we researched nineteenth century asylums.  We quickly realised that we were researching a very special subject – a taboo topic and one that most families endeavoured to forget if there was any hint of insanity in their family.
Thousands of men women and children were admitted as pauper patients to asylums in Britain – quickly to become a forgotten group of people shut away from the gaze of society and shunned as individuals to be feared.  In nineteenth century Britain, mental disorders were little understood and 'mad-doctors' or 'alienists' as they were called endeavoured to determine the cause of their 'insanity' in an attempt to cure or curtail it.  Conditions such as epilepsy and post-natal depression which today are cured or managed by modern medicine invariably led at that time to a stay in an asylum.
The nineteenth century saw progress in the medical understanding of epilepsy but the condition was considered incurable.  A diagnosis of epilepsy, as well as having a physical and biological impact on the body and brain, also affects the economic, psychological and social aspects of an individual's life.  This impact would have been all the greater during the nineteenth century when medication was limited and the prospects for individuals with uncontrolled seizures were bleak.  In 1857, Sir Charles Locock (1799–1875) discovered the anti-convulsant and sedative qualities of potassium bromide and it was regularly used to treat epileptic seizures and nervous disorders until the discovery of phenobarbital in 1912.
Despite early advances in the understanding of epilepsy, the prognosis for patients remained unfavourable and many became long term patients and died in asylums.  Epileptic patients were admitted occasionally hoping for a cure but generally because they could no longer be cared for within the home or workhouse.  There is evidence from asylum case notes that an asylum was a better option than the workhouse, particularly if the asylum had purpose built provision for those suffering from seizures.
Despite an improved understanding of epilepsy in the nineteenth century, reading asylum accounts of epileptic patients is particularly harrowing.  When sisters, Esther and Violet Gosling arrived at Parkside asylum in 1894 they were having frequent seizures and were unable to take care of themselves.  Esther expressed a wish to enter the asylum because she wanted to be cured – which wasn't likely, but, it must have provided her with hope.  Esther and Violet were relieved from Parkside back to their family home after a six month stay during which time they received no treatment or cure.  Both sisters died within two years from seizures.
Another pair of siblings admitted to the asylum were Mary Jane and John Robert Percival.  Mary Jane was only 10 when she arrived at Parkside in 1890 diagnosed with both Imbecility and Epilepsy.  She had previously been resident at Altrincham Workhouse but her seizures (which were attributed to fright) led to a transfer to the county asylum.  Her younger brother John Robert was only 7 when he was also admitted to the same asylum in 1898 suffering from the same symptoms.  It is unlikely that the two met – segregated by the asylum system on opposite sides of the building.  Both died in Parkside from pulmonary tuberculosis in their early 20s.
Researching and writing 'Lunatics, Imbeciles and Idiots' has been an emotional journey but one we're glad we embarked upon.  Research into epilepsy remains ongoing, but today the prognosis for those who have the condition is much better.  Improved medication, understanding and support is now available and epileptics are no longer shunned from society or locked away because of their seizures.  The Epilepsy Society has been active for 125 years and continues to fundraise to provide life-changing services to those with the disorder.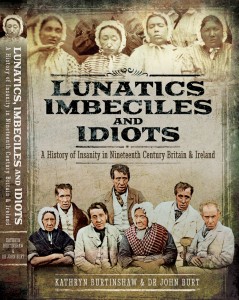 I have spent the last few years researching the rich archive of case notes for patients admitted to asylums in nineteenth century Britain and Ireland.  Many people have commented that they cannot imagine why I would be so interested in such a grim topic – am I mad myself?  Perhaps I am – but the research has led me to co-write a book on the subject entitled 'Lunatics, Imbeciles and Idiots: A History of Insanity in Nineteenth Century Britain and Ireland', which I hope people will enjoy.
As a genealogist, I am naturally interested in any source of information that provides details about the identity and lives of others in the past.  And, asylum case notes are a particularly rich source of ancestral information including photographs, hereditary illness within family and importantly first person accounts of how mental health disorders affected their lives and wellbeing.
The majority of genealogical sources provide a snapshot of a family on a specific day whether that be a baptism, marriage, burial or a census return.  Medical case notes however, allow us to follow the lives of individuals on a daily or weekly basis for as long as they remained within the asylum.  A good example of this is the case of Esther Eliza Taylor who was admitted to Parkside Asylum in Macclesfield, Cheshire in 1887.  Her case notes reveal that Esther was wilful, stubborn and abusive towards her mother who was clearly at the end of her tether.  However, as well as providing details of Esther's mental health problems, the case notes also give details of her father who is described as 'an inveterate drunk who had convulsions as a child'.  Similar convulsions affected all of his children.
Hundreds of thousands of individuals were admitted to lunatic asylums in the nineteenth century.  Many were discharged deemed to be recovered, but others remained there for life.  Due to social stigma, episodes of insanity within a family are quickly 'forgotten' or brushed under the carpet.  Subsequent generations may have no idea that their ancestor was once admitted to an asylum.  But, for those of us with an inquiring mind, and let's face it, most genealogists would describe themselves as nosy, these records are available for research.
The quickest way to determine if you had a 'lunatic' ancestor is to check the UK, Lunacy Patients Admission Registers, 1846-1912 on Ancestry.  The patient case notes are held at county archives, but some collections have been digitised and are available to view online.  Cheshire Archives and Local Studies have made their collection of Parkside Asylum case notes freely available using this method.
In order to highlight what a rich source of information these records are, my co-author Dr John Burt and myself will be giving a joint presentation at Who Do You Think You Are Live at the NEC in Birmingham on 7 April 2017.