The Scottish National Dictionary was published in ten volumes between 1931 and 1976. The compilers sought out many individuals from all over Scotland who were experts in their local dialect and had a profound knowledge of local history, and could explain Scots words as they appeared in print from 1700 until 1976. The mission of this elite group of individuals was to record, share and promote these words within the context that they were originally written.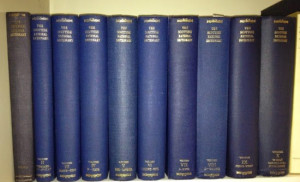 My great-aunt, Jeanie Craik Rodger, a primary school teacher in Forfar, was one of the first expert compilers recruited. She was born in 1905 in Forfar and had a very strong Angus accent. Her family had lived there from time immemorial. She collected the vocabulary, accents and stories of her charges, and stories from local folklore.
Jeanie is shown on the right with her younger sister, Agnes Mary Rodger, who died in 1937 of pulmonary tuberculosis, just 23 years old.
One of her most memorable works was Lang Strang­ – a book of rhymes and children's games published in 1948 based on local tales from Forfar – one of the greatest hits was 'a bedtime story' where trousers are 'stuntifiers' and the cat is 'Old Killiecraffus'. Jeanie then went on to write a regular column in Forfar vernacular for the national Scots Magazine under the pen-name of 'Mary-Ann'.
When compiling her entries for the Dictionary she came across a number of words with a specific medical terminology, such as 'bairn-bed' for a womb.  Some were local to Forfar, but others came from many other parts of Scotland.
As a medical historian I have always had an interest in these ancient terms – some are quite amusing in their frank descriptions. Males had cods, courage-bags, culls, bollocks or knackers, pintles, whangs and wallies! And females had bairn-beds, fud, crappins, craig of the creel, egg-bags, wheeries and problems with their breists or briskets.
Other worrying names are 'by anesel' meaning completely mad, and 'curly wingles' when apparently you think your guts are doing somersaults. At least you would know your 'hurdies' meant your bum.
I am proposing to develop an inventory of Scottish medical terms as part of a Pinpoint Ancestry development to appear on our website soon. All out-kneed people with reeking oxters, peerie-winkled, hertie, driddly and kittle or lap-biggit people are apologised to.